Temas de Investigación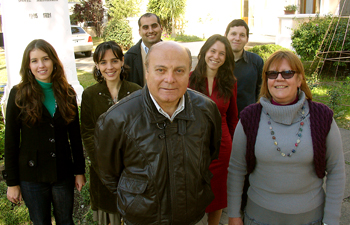 Identificación de metabolitos bioactivos de plantas nativas.
Búsqueda de moléculas líderes para su optimización como agentes de utilidad farmacológica.
Se realiza el aislamiento biodirigido de los principios con actividad citotóxica, antifúngica y antioxidante presentes en extractos de plantas nativas utilizadas en medicina tradicional y plantas que taxonómicamente se encuentran estrechamente relacionadas con especies reconocidas por sus propiedades terapéuticas.
El fraccionamiento bioguiado se realiza utilizando el ensayo BST (Brine Srimp Test) para detectar citotoxicidad general. Para la actividad antifúngica se realizan ensayos con hongos patógenos ya sea para el hombre o para cultivos de importancia regional (maíz, soja, poroto, etc.).
Los polifenoles totales se determinan utilizando el reactivo de Folin-Ciocalteu; el efecto depurador de radicales con el reactivo 2,2-diphenyl-1-picrylhydrazyl (DPPH) y la capacidad antioxidante con el sistema micelar beta-caroteno/ácido linoléico.
En todos los casos se emplean como controles positivos antioxidantes de uso común tanto naturales (vitamina E, ácido ascórbico, ácido gálico) como sintéticos (BHT, BHA).
Director del grupo

Breve Historia del Grupo


Publicaciones selectas

FUNCTIONALIZED EUDESMANOLIDES FROM MIKANIA CAMPANULATA.
por Marta Krautmann, Elmira C. de Riscala, Eleuterio Burgueño-Tapia, César A. N. Catalán and Pedro Joseph-Nathan.
Journal of Natural Products 70, 1173-1179 (2007).

VIBRATIONAL CIRCULAR DICHROISM OF LIPPIFOLIANE AND AFRICANANE SESQUITERPENES FROM LIPPIA INTEGRIFIOLIA.
por Carlos M. Cerda-Garcia-Rojas, César A. N. Catalán, Ana C. Muro, Pedro Joseph-Nathan
Journal of Natural Products 71, 967-971 (2008).

A NEW COLORIMETRIC METHOD FOR DETERMINATION OF ALKYLRESORCINOLS IN GROUND AND WHOLE-CEREAL GRAINS USING THE DIAZONIUM SALT FAST BLUE RR.
por D. A. Sampietro, M. A. Vattuone, C. A. N. Catalán.
Food Chemistry 115 (3), 1170-1174 (2009).